A made-in-Ontario electric solution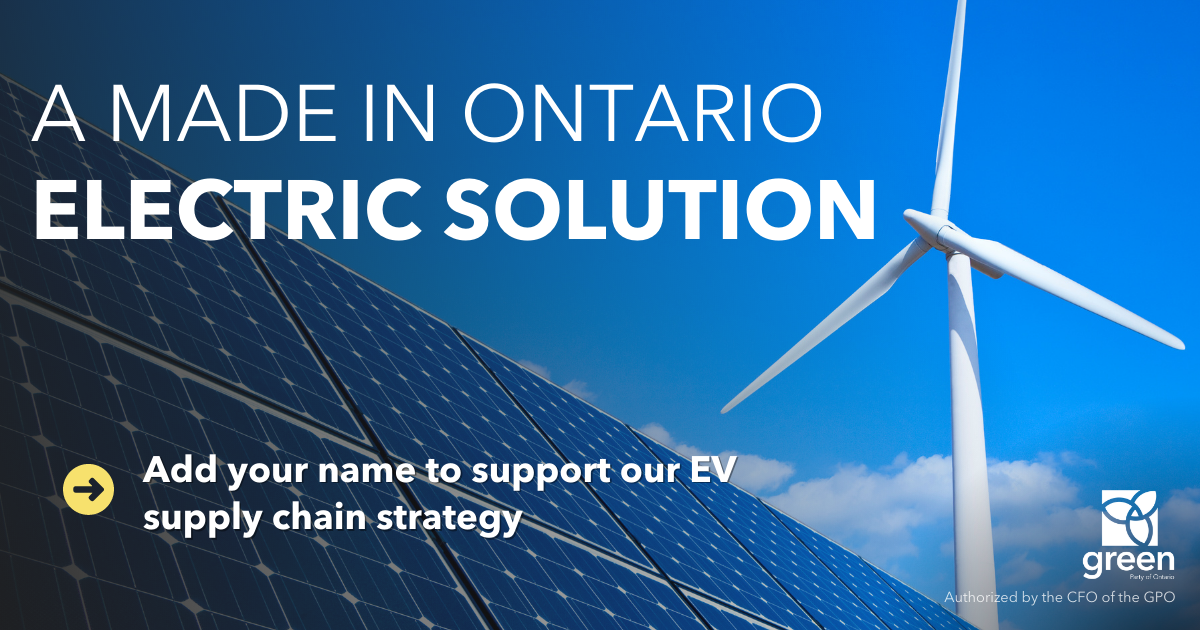 We're creating the new green economy right here at home.
To crush climate pollution, Ontario needs a real plan to decrease the use of fossil fuel vehicles and rapidly move towards low carbon transportation options, including electric cars, buses and bikes.
With the right investments, we can make this vision a reality. We have a plan to position Ontario as a global leader in the new green economy, creating a strong workforce using our competitive advantage to make these vehicles right here at home.
Ontario Greens will build on our strengths to grow good, green jobs and businesses in the province through a made-in-Ontario EV supply chain. This will be achieved through the following 5 key steps:
Increase demand for new low-emission vehicles, with cash incentives of up to $10,000 for buying a fully electric vehicle and $1,000 for an e-bike
Bring 60,000 diverse, young people into the green workforce, including providing one year of free tuition and guaranteed apprenticeship
Increase sustainable, circular and Indigenous-led access to critical minerals and metals, while fully adhering to principles of UNDRIP
Unlock low carbon inputs for EVs
Scale up EV innovation and production, through a $5 billion EV Mobility and green technology innovation fund and $4 billion Climate Bank
This is the Ontario we want and the leadership we need.
Join us and show your support for our plan to grow a green solution right here at home.